Top ten friday (TTF) es nuestra versión del
Top Ten Tuesday
. Y ustedes se preguntaran porque cambiamos el nombre, y lo hicimos porque no sólo tendremos top ten relacionados con libros, sino que también con películas, series y música.
Mucho más entrete
:D
Nuestro primer Top Ten es de
Comedias románticas
, esas películas que podemos ver una y mil veces sin aburrirnos, y que cada vez que las vemos en la tv, simplemente
no podemos
cambiar el canal.
Nos hacen reír y a la vez creer que el amor existe, típicas historias americanas
(y una inglesa :3)
donde sabemos que el final es feliz. Puede sorprenderlos,
o tal vez no
, pero cuando estábamos haciendo la lista, terminamos anotando 15 películas cada una!
(para los malos en las matemáticas eso nos da 45 películas en total)
Tuvimos que hacer un mega filtro, y estas son las seleccionadas!
He's not that into you
He's just not that into you es una película honesta como pueden ver en el gif. Nos dice literalmente DEJA DE SOÑAR, TU VIDA NO ES UNA PELICULA. Y bueno creo que es refrescante como se da el romance en esta pelicula.
10 Thing i hate about you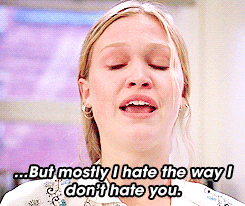 10 things I Hate About You es un clasico de los 90's y siempre tendra un lugar en nuestros corazones. el sarcasmo de Kat y la 'rudeza' Patrick son una muy buena combinación, esa quimica rodeado de personajes que bordean lo absurdo es perfecto.
Confessions of a shopaholic
¡Yo amo comprar, tu amas comprar, todo el mundo ama comprar! ok ok.. tal vez no TODO el mundo, pero los que nos sentimos identificados con rebecca simplemente no podemos dejar de lado esta pelicula asi que incluida en el TTF
no creo que esta necesite explicacion.. Meryl Streep, Stanley Tucci, ropa de diseñador, y Nueva York!
Quien no ama una historia acerca de bodas... o su falta de ellas... 27 Dresses es encantadora y definitivamente va en la lista.
Una de las historias de disney adaptada a nuestra época, donde el "principe" es Chad Michael Murray... necesitan más motivos?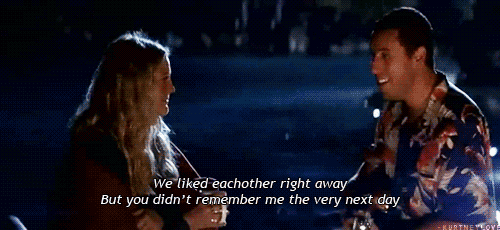 Hawaii? Adam Sandler haciendo estupideces para enamorar cada día de nuevo a la misma chica? Amor, amor, amor, música feliz. Sí, me encanta y siempre termino llorando con esta película.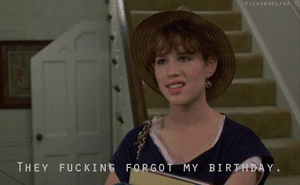 No puedes tener una lista de comedias romanticas sin los 80's. Y si de los 80's hablamos john hughes es el mejor. 16 Candles es una de mis peliculas favoritas en la historia del cine, y considerando la cantidad de peliculas que he visto eso es decir algo!
Quién no disfruta ver como este guapo Ryan Reynolds se hace de rogar para fingir un matrimonio? También podemos verlo desnudo 1313 uhuuu. Esta película es para reírse y a la vez ver como el amor va floreciendo.
Bridget Jones
Suficientes americanos por un día... la ultima pelicula de nuestra lista es Bridget Jone's Diary. Razones para amar esta pelicula: Bridget da verguenza ajena y aun asi es una excelente protagonista.
Y creo que eso es todo por hoy
*sighs*
... fue mas agotador de lo que pensabamos.. por que enserio es muy dificil escoger 10 peliculas entre 3 personas. por desgracia hay muchas que quedaron fuera, pero tal vez para la proxima.
Cuentenos de sus peliculas romanticas favoritas.. estan en la lista? o tienen unas mejores que tal vez olvidamos?