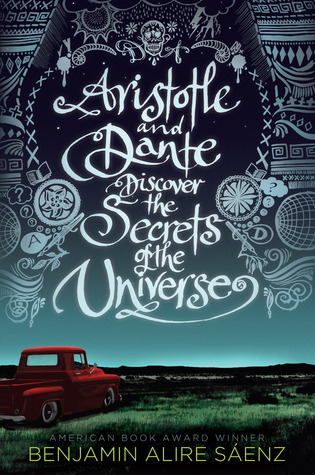 Título original: Aristotle and Dante discover the secrets of the universe
Título en Español: Aristóteles y Dante descubren los secretos del universo
Autor/a: Benjamin Alire Sáenz
Editorial: Editorial Planeta
Año: 2012
Páginas: 368
Sinopsis: Aristóteles es introvertido y tímido. Dante es transparente y expresivo. Por motivos que parecen escapar a toda razón, estos dos chicos de diecisiete años se encuentran y construyen una amistad entrañable que les permitirá redefinir el mundo del otro y aprender a creer en ellos mismos para descubrir los secretos del universo. El escritor multipremiado, Benjamin Alire Sáenz, explora la lealtad y la confianza entre dos jóvenes que están aprendiendo a ser adultos en un escenario fronterizo tan mexicano como estadounidense. Juntos deberán crecer al mismo tiempo en que se adaptan a una sociedad que también está búsqueda, identidad.


La mejor decisión del mundo fue comenzar este libro sin saber nada de el, solo sabía que todo aquel que lo leía lo alababa, y ahora puedo entender porque.
"Another secret of the universe: Sometimes pain was like a storm that came out of nowhere. The clearest summer could end in a downpour. Could end in lightning and thunder."
Me lo compré en inglés ya que había leído que no era difícil, y la verdad es que no lo es, volé por las páginas sin dificultad alguna. Está escrito de manera sencilla, pero muy emotiva, y logra cautivarte desde el comienzo.
Cada personaje tiene una personalidad única, con la que puedes llegar a relacionarte en más de algún aspecto, las situaciones son reales y simplemente no puedes evitar enamorarte de TODO. Hasta del perro te encariñas!
"I wondered what that was like, to hold someone's hand. I bet you could sometimes find all of the mysteries of the universe in someone's hand."
Esta será la reseña más corta del universo, porque creo que mientras menos sepan del libro, más les gustará. Si tienen la posibilidad de comprarlo, HÁGANLO, no se arrepentirán. La historia es simplemente hermosa.
"Sometimes, you do things and you do them not because you're thinking but because you're feeling. Because you're feeling too much. And you can't always control the things you do when you're feeling too much."
Así que en definitiva, le doy ocho millones de estrellitas…